Senator Fred Mitchell's
Trip To Bimini
5-7 August 1999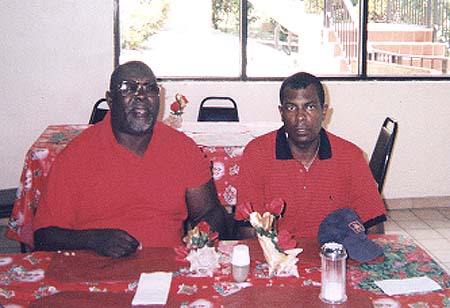 Leader of the Opposition Perry Christie will make an official visit to Bimini on 23 August to speak with party leaders and hold a public meeting. While there he will inspect the Bimini Bay project, and the Fantasy Island site of the fire of 1997. He will be accompanied by Senator Fred Mitchell, Bradley Roberts MP, and Senator Obie Wilchcombe, Party Chairman and putative candidate for the PLP for the Bimini and West End Seat. One of the important men in the Bimini PLP community is Glen Rolle, owner of All My Children Hotel. Mr. Rolle, who is now blind in both eyes as a result of diabetes and who is on dialysis three times per week, sits with Senator Mitchell During his recent visit.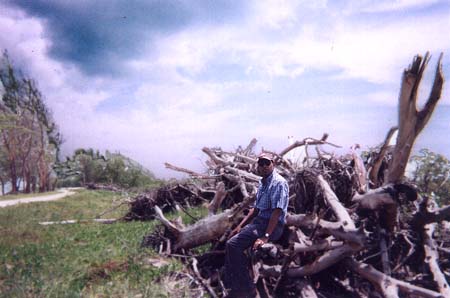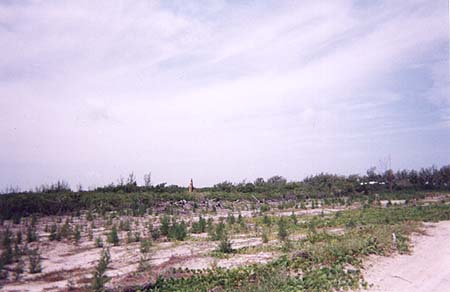 Gerado Capo, the Cuban American, says that he is developing Bimini Bay, but Senator Mitchell saw evidence to the contrary. People in Bimini think that Mr. Capo has run out of money and is searching around for capital. Here is what can be seen of Bimini Bay. Last week following the statement by the Leader of the Opposition about Bimini Bay, David Wallace the MP for Bimini said that the project was going ahead and that financing was in place. One can see for oneself that no work is being done.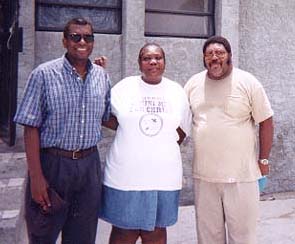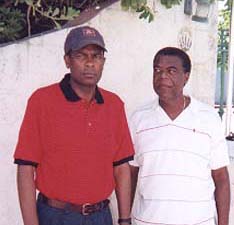 At left, Senator Mitchell is seen with friends Mr. and Mrs. Joe Jones of Jones Market in Porgy Bay Bimini. Mr. Jones has an all purpose store which sells food and dry goods. At right, Senator Fred Mitchell stands with Captain Jerome Stuart of Bimini. He is one of the best in Bimini for deep sea fishing and trolling. He is a strong PLP.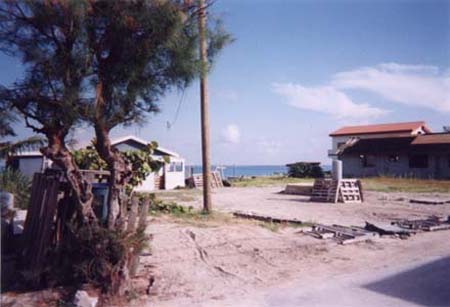 This is the site of the Fantasy island housing settlement which was destroyed by fire in spring 1997.
Some 48 people were left homeless. The Government has not rebuilt the homes.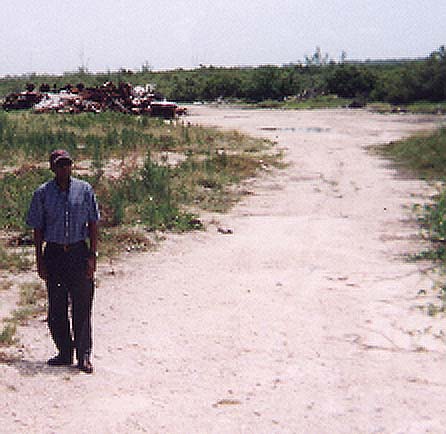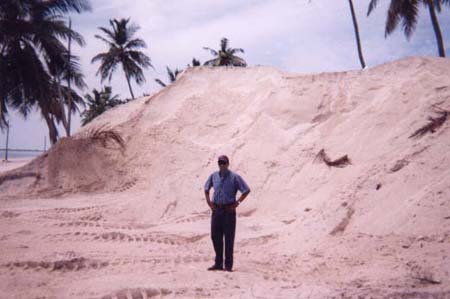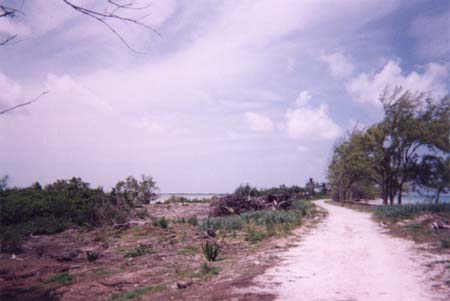 This dirt road and pile of sand are examples of how Capo's project is really at a standstill. It is described as an ecological disaster by residents of Bimini, subject to wind and water erosion.