These photographs were taken during a recent tour by Senator Fred Mitchell of the island of Exuma on the occasion of Independence Day.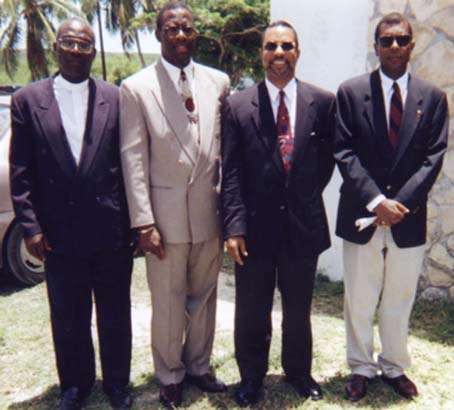 From left are Rev. Dr. Irwin Clarke, Administrator Cephas Cooper, FNM MP Elliott B. Lockhart and Senator Mitchell.
Please click on the captions below to view the described photograph.
After the Service for Independence, Crab 'n' rice, chicken and salad served at roadside. Among those at the table are Elliott Lockhart, Exuma MP; Cephas Cooper, Island Administrator and Senator Mitchell.
Senator Mitchell with the Ministry of Tourism representative after the Independence Service at the Mt. Thompson Seventh Day Adventist church.
Senator Mitchell standing in front of one of the hotel buildings currently under construction.
Wilfred Rolle, Guard at Emerald Bay Development.
Senator Mitchell's personal assistant Brandino Brown on the Emerald Bay golf course currently under development.
Special grass on the Emerald Bay golf course, grows with salt water, imported from South Africa.
View of Farmers' Hill, Emerald Bay Development, Ocean Bight, Exuma.