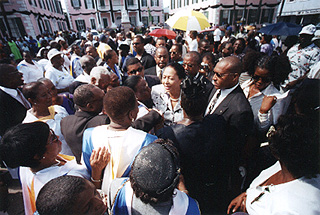 SIR LYNDEN'S FUNERAL MONDAY - PUBLIC HOLIDAY DECLARED - MANY SERVICES & OBSERVANCES PLANNED - Sir Lynden, the former Prime Minister and father of the nation died in the early hours of Saturday 26 August at home at the age of 70. He leaves his widow Lady Marguerite Pindling, his children Obie, Leslie, Michelle Sands and Monique Johnson. He will be buried on Monday 4th September, 2000.
WEDNESDAY - The Pindling family views Sir Lynden before he lies in state. Click here for photographs.
THURSDAY - Sir Lynden lies in state at the House of Assembly. PLP Senators and Members of Parliament view the body. Click here for photographs. Sir Lynden will lie in state until just before the funeral.
THURSDAY - The Progressive Liberal Party holds a memorial service for Sir Lynden at Mount Tabor Baptist Church. Photographs to come.
FRIDAY - All Junkanoo groups will join for a rushout which will pause for a moment of silence and the playing of the national anthem in Rawson Square. The rushout will proceed to Windsor Park.
FRIDAY - A PLP Singspiration and public service of thanksgiving for the life of Sir Lynden organized by Deputy Leader 'Mother' Pratt on Friday evening at Windsor Park. The service will be joined by the Junkanoo Rushout.
SUNDAY - An ecumenical service led by the Seventh Day Adventist Church of which Sir Lynden was a member. The service to be held at the Kendal G.L. Isaacs Gymnasium at 3pm.
MONDAY HAS BEEN DECLARED A PUBLIC HOLIDAY
MONDAY - The family will join a funeral procession to leave the House of Assembly with a joint honour guard of Police and Defence Force officers for the State Funeral at the Church of God of Prophecy, East Street. After the service, the mourners will process with the body of Sir Lynden to the mausoleum specially constructed for his interment at St. Agnes cemetery.
The widow, Lady Margeurite Pindling is shown being crowded by distraught mourners paying their respects and offering condolences outside the House of Assembly Thursday morning.