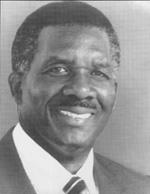 VIEWING SIR LYNDEN
---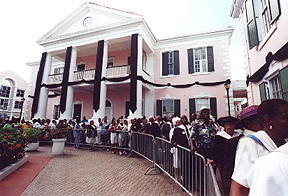 Huge crowds of people gathered at the House of Assembly Thursday morning 31 August, 2000 to view the body of the late Bahamian National Hero Sir Lynden Pindling. It was the sixth day of national mourning since Sir Lynden's death in the early hours of Saturday 26 August. The crowds were orderly and sad, some distraught.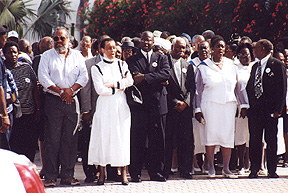 Dotted among the thousands waiting to pay their respects to Sir Lynden were cadres of faithful followers, many grayed and ageing, who had helped in various ways to make his dream for The Bahamas become reality.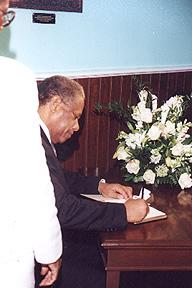 His Excellency Governor-General Sir Orville Turnquest signs the book of condolences at the House of Assembly.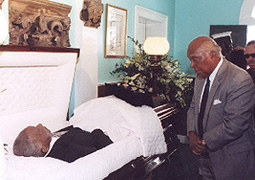 Former Governor-General Sir Gerald Cash bids farewell to Sir Lynden with bowed head.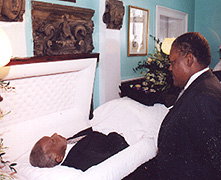 Prime Minister Ingraham who eulogized Sir Lynden as his "mentor to the very end" joins the thousands of mourners as they file past the body lying in state.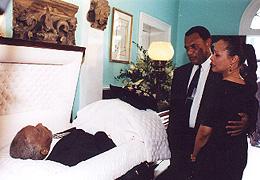 Leader of the Progressive Liberal Party Perry Christie comforts Mrs. Christie as they say goodbye to Sir Lynden.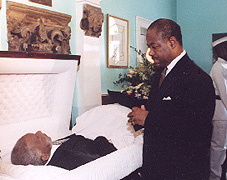 Progressive Liberal Party Chairman, Senator Obie Wilchcombe - a longtime and key aide to Sir Lynden contemplates the face of the late leader.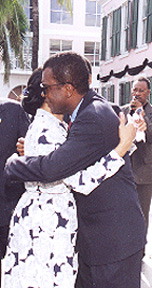 Senator Fred Mitchell whispers a prayer of comfort into the ear of widow Marguerite, the Lady Pindling as he offers condolence and consolation.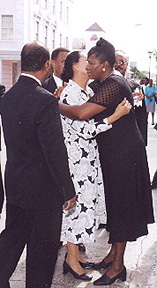 Progressive Liberal Party Deputy Leader Cynthia 'Mother' Pratt, the spiritual icon of the party shares a hug with Lady Pindling.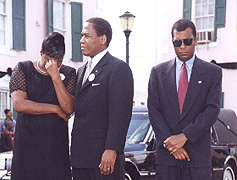 A saddened Senator Mitchell stands as PLP Senate Leader Dr. Marcus Bethel supports 'Mother' Pratt, overcome with emotion at the loss of Sir Lynden.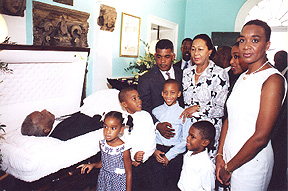 Generations of Sir Lynden Pindling's family, some too young to understand - view his remains with dignity.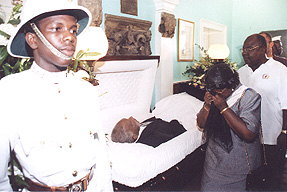 A woman is overtaken by grief as she files past the body of Sir Lynden, flanked by a young but somber member of the Royal Bahamas Police Force honour guard.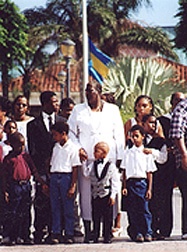 Bahamians, young and old stand in front of the national flag at half-mast and watch the sad scene outside the House of Assembly.