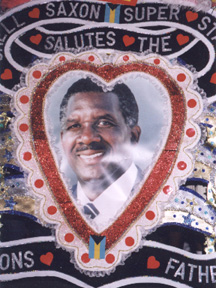 Junkanoo Tribute, In Memory Of Sir Lynden Pindling

---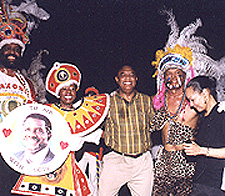 Progressive Liberal Party Leader Perry Christie is no stranger to the Junkanoo beat having 'rushed' himself and supported the art all his life. He was joined in the Junkanoo celebration of Sir Lynden's life by Mrs. Christie.

The dominant mood throughout the Junkanoo procession was patriotic with many young and very young brought out for the powerful memories of this special occasion. This little flag-waver was typical...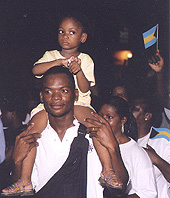 The crowd was filled with the 'grass roots' Bahamians for whom Sir Lynden fought so hard during his lifetime. Largely absent was the raucous push of the crowd which usually accompanies Junkanoo celebrations. Flag-waving was the order of the day.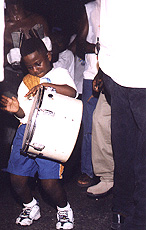 This little drummer boy braved the warmth of the autumn evening to accompany his group and add to the beat...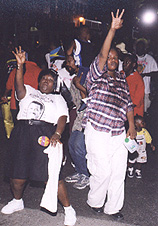 The hand sign of the crab used by members of Sir Lynden's Progressive Liberal Party was much in evidence during the Junkanoo parade, as mourners remembered and honoured the 'Father of the Modern Bahamas'.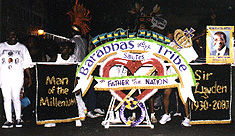 Junkanoo groups which usually take months to prepare for the two major end-of-year Junkanoo parades turned out intricate banners and costumes to honour Sir Lynden in a matter of days. Barabbas & The Tribe...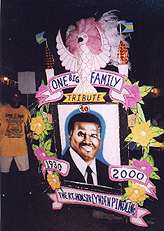 One Family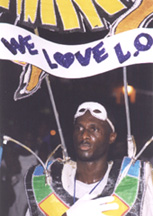 This cowbeller pauses his ringing during the moment of silence at Rawson Square outside the House of Assembly.


Percy 'Vola' Francis, one of the deans of the Junkanoo establishment was out in full force with his Saxons Superstars.