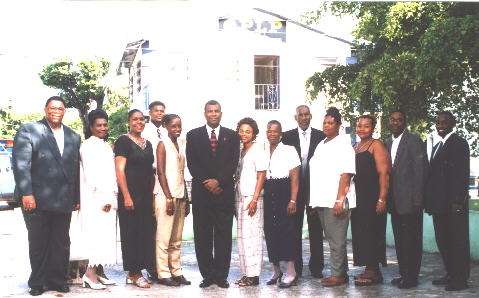 The delegation of the Fox Hill Branch to the 1998 convention of the PLP. From left: Clarence Moss, Evangelist Irene Rolle, Tami Ferguson, Secretary; Solomon Ferguson, Kayla Wilmott, Treasurer & Officer Manager; Senator Fred Mitchell, Renee Major, Mildred Pratt, Calvin Brown, National General Council Member; Elizabeth Thompson, Joanna Greene, Een Colebrooke, 2nd Vice Chairman, and Larry Wilmott 1st Vice Chairman.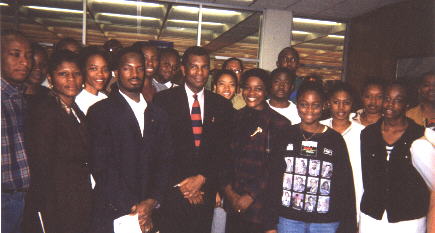 Senator Fred Mitchell has been visiting campuses where there are major concentrations of Bahamian students. Last year, he visited the University of the West Indies campuses at Mona, Jamaica; Cave Hill, Barbados and St. Augustine's in Trinidad. While in Jamaica he also met with students at the Seventh Day Adventist College in Mandeville, Jamaica. He met with the Bahamian priests in training at Codrington in Barbados as well last year. This year, he visited the campus of St. Augustine in Raligh, North Carolina. Pictured from left to right during the visit from 22nd November to 24th November at a stop in the University President's office are Dr. Frank Watts, Assistant to the President; Dr. Bernard Franklin, President of the University; Senator Mitchell, Akin Minnis, pre-med major and Bahamian Student Ambassador; Deanna Bain, Interim President of the International Students Association and a Bahamian.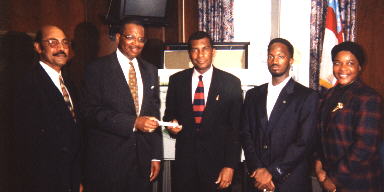 Senator Mitchell is pictured below with Dillon Bethel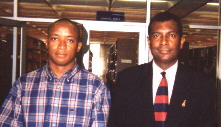 Senator Mitchell is shown with students at a reception that followed his address to the students. The Senator encouraged the students to think about joining the PLP when they return home.