<![if !vml]>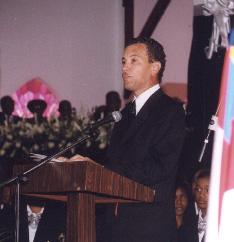 <![endif]>TRIBUTE
TO THE LATE
RIGHT HONOURABLE SIR LYNDEN PINDLING
BY
SEAN McWEENEY
<![if !supportEmptyParas]> <![endif]>
STATE FUNERAL SERVICE
CHURCH OF GOD OF PROPHECY
EAST STREET TABERNACLE
  MONDAY, 4th SEPTEMBER, 2000
<![if !supportEmptyParas]> <![endif]>
         Last Saturday, in the dark still of the early morning hours, the mortal remains of the greatest Bahamian who ever lived were placed in the back of a white funeral-van which Bethel Brothers had sent to the Pindling home.  Sir Lynden's widow and his children were gathered round and realizing, of course, that their husband and father was leaving home for the last time, the burden of their loss weighed heavily upon them.  After the body had been carefully secured, the rear doors of the van were closed and slowly it began to move away.  Tearfully, the family waved goodbye then turned towards the house once more.  All of the family that is except for Obi, the elder of Sir Lynden's sons.   He had continued to stare at the departing van because something had caught his eye.  It seemed too unreal to be true.  Calling out to his mother and his sisters who had already turned away, Obi said "Hey, you all see that?"  Turning to see for themselves, Lady Pindling and Leslie and Michelle and Monique now saw what Obi had seen.  And what they saw lifted their hearts in a way they could not have imagined possible just a moment before.   Amidst their tears, smiles suddenly broke out, spreading quickly from face to face because what they now saw with their own eyes persuaded them that even in death Lynden Pindling was still in touch.  It was the licence plate on the van, you see.  Quite by accident, without any sort of theatrical calculation , the van Bethel Brothers had sent to the Pindling residence just so happened to have as on its licence plate the number, oh yes, the number "1010".
Your Excellencies, Right Honourable Prime Minister, Visiting Heads of Government, My Lord Archbishops, Reverend Bishops, other members of the clergy and all other dignitaries here present, my fellow Bahamians everywhere :
May I say on behalf of Lady Pindling and the whole of the Pindling family how very appreciative they are of the wonderful outpouring of support and prayers they have received from all across the national community and from beyond our borders.  These expressions of sympathy have sustained them in this difficult period as have the sentiments of gratitude for the life of Sir Lynden which have fallen in such abundance and with such heartfelt sincerity from the lips of so many persons from all walks of life, both here and abroad, over the course of the past week. 
Lady Pindling and her children are also gladdened by the presence here this morning of the heads of government, former Prime Ministers and other foreign dignitaries who have traveled from afar to pay their final respects to their fallen brother.  Sir Lynden was deeply committed to CARICOM and the integration of The Bahamas into the Caribbean family.  He was always fond of saying that the same boat had brought all us into this part of the world and that the only difference was that the boat had dropped some of us off further south than others.  That the Caribbean family is so well represented here this morning is a fitting tribute to the memory of a man who believed so deeply in the common cause and common destiny of the peoples of the West Indies and Caribbean.
The Pindling family is also deeply appreciative of the care and sensitivity shown by the Government and, in particular, the Right Hon. Prime Minister, in meeting the wishes of the family concerning this State Funeral.  The Pindling family is most grateful to you, Sir, for all the many kind and considerate gestures you and your Government have extended all this week.
While I have your attention, Prime Minister, permit me, if you please, a brief personal intervention which I make not on behalf of the Pindling family but in my own right as a Bahamian who, like so many others, loved and admired Sir Lynden.  That we are now to have a National Heroes Day, Sir, is a most excellent idea for which you and your Government are to be applauded. But Prime Minister - if I may - in the same way that the Father of the American nation is accorded a special holiday dedicated solely to his memory, we, as a people, should expect no less for the Father of the Bahamian nation.  May I therefore respectfully suggest for your consideration, Sir, that just as Columbus Day is to be re-designated "National Heroes Day", some other existing public holiday should now be re-christened in the national calendar as  "Sir Lynden Pindling Day".
Your Excellencies, Reverend moderators :
Lynden Pindling was a complex man and he leaves a complex legacy.  He was simply too great a man, too unique a human being, to allow the many aspects of his genius to be distilled into a single speech of tribute. It is going to take us all a little while to sort out all the varied strands which make up the Pindling legacy and what we today regard as the most important elements of that legacy may not be the same things to which future generations give pride of place in the catalogue of Sir Lynden's many triumphs.
If we who speak today remember Sir Lynden largely through a kaleidoscope of anecdotes and snapshot-images, it is only because his passing from our midst is far too recent for those of us who loved and admired him to be able to speak of him in any way other than the way I intend to speak in tribute to him today.
Your Excellencies, Reverend moderators :
It is not by accident that I began my remarks by speaking of Lady Pindling and of the sons and daughters she bore for the man we lay to rest today.  Sir Lynden was a deeply devoted family man. His home was his one oasis in the universe of turbulent conflict to which has destiny had tied him.  It was at home, in the company of those he truly loved, that he could take a siesta from his labours and his battles. 
Any Bahamian who was ever downtown at 1:00 on any afternoon during Sir Lynden's tenure as Prime Minister can tell you that his car would be headed westward at that hour.  No matter what was on the agenda that day, no matter how pressing the crisis might be, there was nothing in this world that was ever going to come between Sir Lynden and the luncheons he looked forward to enjoying every day of the week with his wife and family.
Sir Lynden was so very proud of all his children; proud of their accomplishments and of how well they had each turned out under the harsh glare of public scrutiny which no other child in this Commonwealth has ever had to endure for so long.  It was, he thought, a testimony to their own fortitude and good balance that they had come through it all so well.  But he was more than just proud of his boys and girls.  He was also grateful for them and for their love and he sought to repay them each and every day with a love and devotion that knew no bounds except that the time was always much too short.   
In 1997 when I was helping Sir Lynden prepare his farewell address to the House of Assembly, I well remember that there was one paragraph he was particularly concerned to get exactly right and he kept changing it and changing it.  It became clear to me after a while that he was far more concerned about this one paragraph than all the other sections of his speech recounting his many great historical accomplishments.  And so, on the morning the House of Assembly met when he whispered to me "Man, I got that thing down pat now", I knew exactly the paragraph he was talking about.  And what he had written with such loving care, and what he said in the House that day was this, and I quote :
"As for my wife, Madam Speaker, a very special word, if I may.  It has been my singular good fortune to have at my side from the time of my entry into politics in 1956 to my exit in 1997, a princess whose bearing, grace and charm made her the toast of four continents and a lady whose fortitude in the face of the most daunting adversities and whose unwavering devotion to me and what I stood for contributed mightily to my survival and my successes in politics.  To Marguerite, my wife, my lover, my homemaker and my best friend of 41 years, let me say this then, that for her support, her understanding, her tender and constant care and her boundless love and devotion, I am grateful beyond measure."  
<![if !supportEmptyParas]> <![endif]>
Sir Lynden more than loved his wife. He adored her.  His admiration of her endless.  She was his partner in love and in politics.   She was the most loyal and valiant and unflinching of all his many soldiers. And if truth be told, the man whose own political instincts were so legendary trusted his wife's instincts far more than his own when it came to discerning the true motives of others.
As a people, we owe a great deal to the Pindling family.  If there is one regret that Obi and Leslie and Michelle and Nikki must have at a time like this, it has to be that they did not get to spend more time with their father while they were growing up.  And the reason why they never got to spend that time was because we demanded of their father that he give that time to us.  Let us therefore be not unmindful that we, the Bahamian people, all of us, have been the beneficiaries of the sacrifices of the Pindling family.  They gave up so much of their father so that he might become the father of us all in the making and building of our nation.  The time they lost was the time we gained. 
But oh how splendidly he used that time, not only for the great affairs of state to which he so energetically applied himself but the time he took to deal with people one-on-one and face-to-face- as human beings.
In the days since his passing, it is not the great events of Sir Lynden's long and illustrious career in public life that I have found myself thinking about but rather the very special way that Sir Lynden treated what we like to refer to as ordinary people.  What sticks are the images of all the many persons who, feeling that they had nowhere else to turn, would find their way to Prime Minister Pindling's office.  They would go there to pour out their heart to him; to cry out to him, "Chief, I'm really hurting and could use a little hand to help me on my feet again". 
What always so impressed me about Sir Lynden was how he treated people.  He would welcome them into his office and treat them with the same courtesy and respect he would accord a visiting diplomat from a foreign land.  Sir Lynden  respected the dignity of the human person, however humble of station that person might be, and he made everyone feel important and special and worthy.  When you were with Sir Lynden, no matter who you were, you knew that you had his undivided attention; that he would let you do the talking because he knew that his job was to listen and to understand. And when you left, you knew that if it was possible for him to help you he would. And invariably he did. 
And he didn't do any of this for show and he didn't do it to get your vote either.  These were the "human interest" stories that never got into the newspapers and there would never be any photographers about.  Instead, these were private moments he would spend, hour after hour, day in and day out, from one year to the next, with persons in distress or in need or who just wanted to meet him or talk to him about some idea they had come up with. 
It may have been the man who had lost his job and could no longer feed his family.  Sir Lynden would listen and lend a helping hand.  It may have been the bright young student from some Family Island High School who wanted to go off to college but he had no money and didn't know anyone who had any but he had met Sir Lynden and it was Sir Lynden who would listen and lend a helping hand.  It may have been the Haitian immigrant who had paid his dues but who felt rejected by his adopted country everywhere he turned.  Sir Lynden would listen and lend a helping hand.  It may have been the lady whose house had burned down.  She would find her way to Sir Lynden's office and he would listen and lend a helping hand.  It may have been the disabled man who thought he was being discriminated against on the job; or it may have been some elderly soul whose family had deserted her.  Whatever their story, they would find their way each day to Sir Lynden and he would see them, and he would patiently listen to them, and he would lend a helping hand.
Pindling saw so many people I never knew how he ever found the time to do it.  The one thing he positively could not bear was M.P.s and Ministers who were always ducking their constituents. He would say "Fellas, we're in the service business, man. We are all about serving people. You just can't go run and hide!"
Although I never heard him verbalize it, it was clear from the daily conduct of his political life that Sir Lynden Pindling believed deeply in the Parable of the Lost Sheep.  Long after he had helped many thousands of Bahamians into the fold of economic prosperity and social security, his thoughts were still turned towards those who had lost the way and had not yet made it into the fold.  It was these - the lame, the luckless, the unloved and the lost - that Sir Lynden always went in search of.  In the words of Franklyn Delano Roosevelt, he believed that the true measure of progress was not how you well you had helped those who already had too much but rather how well you would help those who had too little.  He believed in that, right up to the very end of his life.  In his very last public speech just two Mondays ago, with his bones aching, he summoned up the strength to remind us all that our greatest challenge today was still what his friend and ally, A.D. Hanna, had so poignantly articulated so many years before : "To wipe every tear from every eye".
One of the most overused tributes paid to politicians is to speak of how they walked with kings but never lost the common touch.  But I shall never forget the night in 1985 when I saw Lynden Pindling prove the truth of that saying quite literally.  The occasion was the Heads of Government Meeting here in Nassau.  Sir Lynden had played host that evening to scores of prime ministers and presidents, princes and potentates and the most famous sovereign Queen in all the world.  I shall never forget how a group of maids and waitresses had waved to Sir Lynden from the sideline as he was leaving the state function.  Without a second thought, Sir Lynden slipped away from the company of the great and the mighty just so he could shake the hands of those who had hailed them and to thank them personally for what an excellent job they were doing to make the CHOGM meeting such a grand success. 
That is the kind of man Sir Lynden was.  He was a people's man. And it seemed to me that he knew every face and never forgot a name.
Let us also never forget either that Pindling was a man who stood for all Bahamians of all races and creeds.
He reached out to the white community in ways which are too little acknowledged even now.  He encouraged the leaders of the white community to play a part in serving their country at the national level and, in fact, did so at the price of some dissension from within his own party.  He reached out to persons like Geoffrey Johnstone and the late Bobby Symonette and placed them on important Government boards like the College of The Bahamas and the Hotel Corporation.  He embraced into his own party as important members the likes of Marvin Pinder who became a member of his cabinet and Edison Key who became not only a trusted political associate but a close and valued friend.  Sir Lynden always immensely enjoyed his visits to Spanish Wells.  He admired the industrious habits and the cohesiveness of this community and was always appreciative of the warm hospitality extended to him.  White Bahamians also benefited handsomely from the Government's scholarship programme and were full partners with black Bahamians in sharing the fruits of Bahamianization.  Certainly, white Bahamians prospered in far greater numbers under Pindling than was ever the case under the old regime.  Poor white Bahamians were able to achieve successes under  Pindling they could only have dreamt of under Sands.
But while Sir Lynden struggled to forge a free and just society for all Bahamians, he made no apologies for his allegiance to the black masses.  That is where his work had to be concentrated because that was where the forces of history had inflicted their most telling blows, both materially and psychologically.  It was his calling, his destiny, his life's mission to change all that.
And I believe he knew it from an early age.  A most remarkable letter has recently come to light, suggesting that from as early as 18 years of age, Lynden Pindling was beginning to stir to the drumbeat of destiny.  It is a letter postmarked London, bearing the date December 1st, 1948 and it is addressed to his Godfather, E. P. Hall.  After writing about the weather and complaining that he was putting on weight, young Lynden concluded with some words which have the eerie ring of prophecy about them. And this is what he wrote :
"Once again I want to thank you for all you've done and wish you Godspeed. With His help, I shall not fail and when I return I'm confident that I shall establish a record in more ways than one.  My faith is unshaken. 
<![if !supportEmptyParas]> <![endif]>
Yours faithfully and aspiringly,
Lynden."  
How could anyone have known what Lynden Pindling perhaps already sensed, that when he returned from London four years later he would be stepping off the boat into history and into the greatness that lay before him. 
A few days ago, my own son, a boy of 10, was watching all of the television coverage that followed in the wake of Sir Lynden's passing and I suppose it was because he kept hearing the word "great" on television that he asked "Daddy, what made Pindling great ?"  I don't think I answered him very well because as I was trying to explain to him about Majority Rule and Independence and all the other things that Lynden Pindling and his Government had brought about, it suddenly occurred to me that I was really missing the point; that Sir Lynden's greatness could not be explained or measured by reference solely to events or episodes or historical milestones.
To even say that Pindling freed the Bahamian people from the yoke of white minority rule and, later, colonialism is terribly superficial. 1967 was not about the defeat of the UBP nor was it about replacing black faces with white faces either. Those were the superficial results. What Lynden Pindling did, you see, was infinitely more profound.  He freed the Bahamian spirit and allowed it to fly.  That is what 1967 was really all about and that is its true meaning still: the liberation of the Bahamian spirit from the shackles of psychological enslavement. 
If, then, you seek Sir Lynden's monument, look not for it in gilded images of his likeness nor in statues nor in the obelisks of marble that will one day be erected to his memory.  Do not look for it on bank notes bearing his face nor in the schools or highways that will in future bear his name.  If you seek his monument, you must look for it within.  There you will find it.  It is the pride you feel when you wake from your bed and hear your heart singing "I am inferior to no man. I am the equal of any other. I am free!"
By the visions and dreams he shared with us and by all the wars and struggles he waged on our behalf, Lynden Pindling lifted us up.  He filled us all with a sense of unlimited possibilities and he made us dream as we had never dreamt before.
Your Excellencies, Reverend Moderators :
 We want our heroes to be perfect, to be without blemish or blame.  We want them to be perfect because they personify for us the idealism to which we so desperately cling in a temporal world awash with the meaningless and mundane. But Sir Lynden was not a perfect man. He was not a saint and did not want to be remembered as a saint either.  He was heroic on an epic scale but he was also human.  He made mistakes along the way but who among us can cast the first stone ?
But, you know, one of the truly wonderful things about the closing chapter in Sir Lynden's life is how, having laid down his sword and shield and retired from the battlefield, he reached out to so many persons with whom, for one reason or another, he had fallen out over the years.  He regretted, I think, that so many friendships had fractured under the strains and stresses of political conflict.  I know that he was especially happy when he re-kindled his friendships with His Excellency Arthur Foulkes and Jimmy Shepherd, two of his closest comrades-in arms from the early days of the Peaceful Revolution. 
Something infinitely more redemptive came into Sir Lynden's life in his latter years and, when all is said and done, it is the most important thing he ever did.   The man who had the number of the Bahamian people for so long dialed up God and made the only connection that really matters. 
Two days before his death, I went to see Sir Lynden.  Although I did not know it at the time, it was to be the last conversation I would ever have with him.  It was clear that he had taken a turn for the worse and was gravely ill, slipping in and out of sleep.  I held his hand but could not find anything to say.  I remember Michelle saying, "Come, come, Sean, you of all people at a loss for words ?  Say something !"  I had last spoken with Sir Lynden about a week before when he had called to talk about all this blacklisting-OECD business over which he was so deeply concerned.   Now, at his bedside, it seemed, after I had found my voice, that we picked up where we had left off.  We shared a few thoughts on the subject and then we had a laugh or two about something much lighter and completely unrelated.  And that was it. He slipped off into sleep once more.  And I left not long after.
The next day, along with Perry Christie, I returned once more for what was to be Sir Lynden's final full day life on this earth.  It is a day I shall never forget.  Some of his colleagues and friends like Paul Adderley had already been to see him that morning and throughout the afternoon, there was a steady stream of visitors, chief among them the Right Honourable Prime Minister who, while holding Sir Lynden's hand, spoke so movingly to him.  As this scene played out, I could not help thinking that in a very real sense history had come full circle and that Sir Lynden had somehow been repaid the same kindness he had shown to his former nemesis, Sir Stafford Sands, when he was on his deathbed in London nearly 30 years before and Sir Lynden had reached out to him.  Others arrived to say farewell, among them Sir Lynden's former foe in Parliament, Norman Solomon, and his old buddy A. D. Hanna along with his wife, Beryl.
Early the next morning, the phone rang and I knew it could mean only one thing.  It was Michelle and she was calling to say that her father had passed away quietly fifteen minutes ago.
And so, Sir Lynden belongs to the ages now.  The man who inspired us all to reach for the stars has himself gone now beyond the farthest star to a resting place where there is neither war nor strife, neither suffering nor sorrow, only the love of reunion with the God who made him and that full measure of peace which so eluded him on this earth.
Twenty years or so from now, in some National Heroes Park perhaps, some little boy, walking with his grandfather, will gaze upward at a majestic statue struck from bronze.  The boy will notice that it is larger and taller than all the other statues in the park and he will turn to his grandfather and ask "Who was that man?"  And the grandfather, his thoughts turned to a golden era that would have long since passed into the pages of Bahamian history, will tell his grandson that  "Once there was a man.  He came from the humblest street in all the land.  In an age that produced many great men, he rose to become the very greatest of them all.  He fought to make men free and he made nobles of us all.  He loved his country and all its people.  He was a wise and just ruler and a good man.  He was the greatest statesman of his time and of every other.  He is the Father of our nation forever.  He was my hero and I admired and loved him dearly." 
And then the man's grandson perchance will ask "When did he die"? 
And the man placing his hand over his own heart will look down at his grandson and say "Oh, he never died, for as long as I live he will live here still".
_______
<![if !supportEmptyParas]> <![endif]>